What is Everesting?
I first heard about Everesting a few years ago. I saw some messages about people who were going to Everest up to the Sentech (Brixton) tower. Everesting is a simple concept: you find any hill, anywhere and ride up and down the hill until your total ascent is the height of Everest 8 848m. Sounds simple enough. I occasionally do hill repeats on Northcliff and had wondered what it would be like to keep going.
When I rode The Beast earlier in the year with Wimpie van der Merwe, he was chatting about the Everests he had done. The Beast was the toughest thing I had done on a bicycle and Wimpie was telling me that an Everest is far tougher. At the time it made no sense.
Jarrod McGorian's Cancer and Everest Dream
I barely knew Jarrod from riding at ICG. Occasionally we rode together, but more often we rode in different groups. When Laurent shared a message from Jarrod saying that he wanted to do an Everest, I had to go and look at his photo make sure I had the correct person.
It was a long message, but I have extracted some key parts:
"Over the last 10 years I have learnt to overcome many "cancer mountains". The surgery I am about to undergo will be my biggest mountain yet and that is the reason I have decided to attempt an Everesting. In all reality, I have only cycled for just under a year so I know my capability is somewhat limited, but that will not deter me from attempting it."
"I want to shift my Everesting challenge from me alone to a fundraising exercise for cancer research or even fundraising for a children's home. People could pledge an amount for every metre climbed? All proceeds passed on – I don't want anything."
"I wanted to see if you (ICG) would like to get involved somehow, maybe some guys would want to ride along, others may want to pledge some money."
It also contained a link to a blog post https://medium.com/@JardoMc/a-new-challenge-a-new-mountain-to-climb-cefe5e139feb
I was very moved and without a moments thought I replied to the ICG Core Group: "I have to do an Everest sometime. I am happy to ride with them."
And so it began…
Preparation
Things moved fast. ICG agreed to become involved, but requested that Qhubeka be added as a 3rd charity. Jarrod posted on the main group that he was going to attempt an Everest of 60 laps on Northcliff and I immediately committed to riding 60 laps with him and his friend Dan, also an ICG rider.
This was on 27 September and we were going to Everest on 12 October. That did not leave much time. I was confident that I could do it, but how on earth was Jarrod going to manage? This was a challenge far beyond his experience.
In retrospect, had I know how strong his mind was, I wouldn't have worried, but I immediately set out to help him with whatever I could.
Step 1 Equipment
Step 1 was to ensure that Jarrod's bike would be ok. A few quick questions and it was immediately evident that his gearing was never going to make it. A few messages and chats with my friend Mills – the most helpful person I know – and he had offered to swap out Jarrod's crank with a compact crank. I collected the bike from Jarrod one evening, took it to Mills who replaced the crank with one from his magical "kitty". Jarrod was amazed when I returned a little later with the bike. It was still not enough so a bit later in the week, Mills then also swapped his cassette from an 11-28 to 11-32. Jarrod now had gears suitable for climbing the route.
(A few days before the Everest, Jarrod decided to rather use his MTB, so ultimately the bike went back to Mills to swap back without even being ridden with its new gearing!)
Step 2 Optimising the route
Step 2 was to make sure that we had the course correct. Jarrod, Dan and I met on Northcliff and we marked out the start and end of the climb, choosing turning points for ease of identification in the dark, safety and maximum climbing per lap. it was on this recce that Dan and Jarrod decided to use their mountain bikes for the additional gearing they offered. I decided to use my road bike and have my MTB ready in case I decided to swap later in the ride.
Once you know the distance per lap, you can calculate the number of laps required. Our lap was 164m, Everest is 8 848m, so we needed 53.95 laps. You need some buffer, so we worked on 55 laps.
You need to have a GPS with a barometer. That is the primary measure of your height ascended, but there can be errors, so you also need to count laps. When you GPS reads over 8 848m and you have done at least 54 laps, you are done.
Step 3 Food, drink and stop strategy
Jarrod put together a ride schedule and set it to Dan and me. It had three significant issues:
There was a 10 minute stop every 3 laps. One of the main Everesting rules is that you may not sleep. Many people stop due to lack of sleep. Long and/or frequent stops can ruin an Everest attempt
It contained a fluid consumption of 200ml per lap. On the schedule we had, that had Jarrod drinking 7 litres during the night. At best we would be having a lot of pee stops. At worst, excessive water intake can have serious health risks.
It had a lot of carbs in the form of sports drinks and foods. In ultra endurance, much of your energy comes from fats, and you can't afford to allow spikes in blood sugar levels.
After some discussion, we agreed to stop every 5 laps, agreed to drink based on thirst, rather than to a schedule and calculated that Jarrod should consume about 50g of carbs per hour.
Step 4 Support
Jarrod had inspired so many people with his incredible story. People really wanted to be involved. ICG organised a large group to ride with Jarrod on Sunday morning and to have a breakfast with us at Olivia's Coffee shop (conveniently at the bottom of our climb) at 8am.
I could see how important this support was going to be for Jarrod, but was concerned. It seemed that we would have crowds of people at some of the best times and no-one at all in the difficult night time hours and the hours at the end when we were tired.
I thought it would be a good idea to set up a WhatsApp supporters group and let the people who wanted to help organise themselves so that we could spread the support out over the whole period.
I sent Jarrod a message: "Can I start a supporters WhatsApp group?". I got back a somewhat hesitant: "Ye, if you like?". I went ahead anyway.
I created the group at around 10:30am, by 1:30pm we had 60 people, by 4pm, 75 people. By the time we started there were over 100 and the numbers grew while we were riding. It was unbelievable. Groups of people organised to ride with us right through the night.
That was the full extent of preparations for this massive undertaking, which as you can see included almost no cycling at all. Having read this section again, it may come across that without my involvement Jarrod would have had little chance. However, while I think my input made a difference, Jarrod would likely have managed without my help, as he was so determined.
Everesting
After getting good sleep on Thursday and Friday nights and a rest on Saturday afternoon, I drove to the booms. Jarrod and Dan arrived a short while later. Quite a number of supporters also arrived. We did some final bike checks, posed for some photos and freewheeled down the hill.
At the bottom, I was about to turn around to start the first climb. Jarrod reminded me that we needed to turn into the parking. There were a lot more supporters there. Some in cars and some on bikes. Jarrod thanked everyone, Dan read a very inspiring quote and then we started.
It was soon dark, but there was a magnificent full moon. It was a clear, warm evening. Jarrod set the pace. It was significantly slower than on our recce and it was soon apparent that we would run well behind our original schedule. But it was steady and we slowly ticked the laps off. We got into a rhythm – I would lead Jarrod down to call the intersections. I would then ride the first steep part at my own pace and wait for Jarrod at the first circle. We would ride together to the steepest parts – the Hearns corner climb and the final climb to the booms. I would ride those at my own speed, tick off the lap on the tick sheet on Jarrod's car. Then Jarrod and I would do the rest of the lap together.
We had so many people riding with us. Some rode separately at their own pace, some quietly with us, some were asking Jarrod questions – ranging from shrewd to wholly inappropriate, some brought loud music with them. Occasionally Jarrod would excuse himself, put in his earphones and ride in peace for a few laps.
As we went into the night, the numbers thinned, but we had people joining us on their way home from parties to ride a few laps. Then the people who understood that midnight to sunrise was a tough time joined us. At no time on the whole ride did we have less that 3 other riders with us.
Morning came and we had a fantastic breakfast with loads of supporters at Olivia's. But there was no time to linger – soon we were back on our relentless up and down. Tick off 5 laps, have a break and carry on.
The laps were getting slower, the breaks longer. It was getting hotter. Jarrod and Dan began stopping most laps on the way up and again on the way down – not for long, but it was starting to add a lot of extra time. 55 laps x 2 x a short amount of time = finishing many hours later. I was calculating that we would finish after midnight. Could we keep riding that long? I called Jarrod and Dan together and said that we could not keep stopping twice a lap. I wasn't sure it was going to be successful, but it was and our pace picked up again.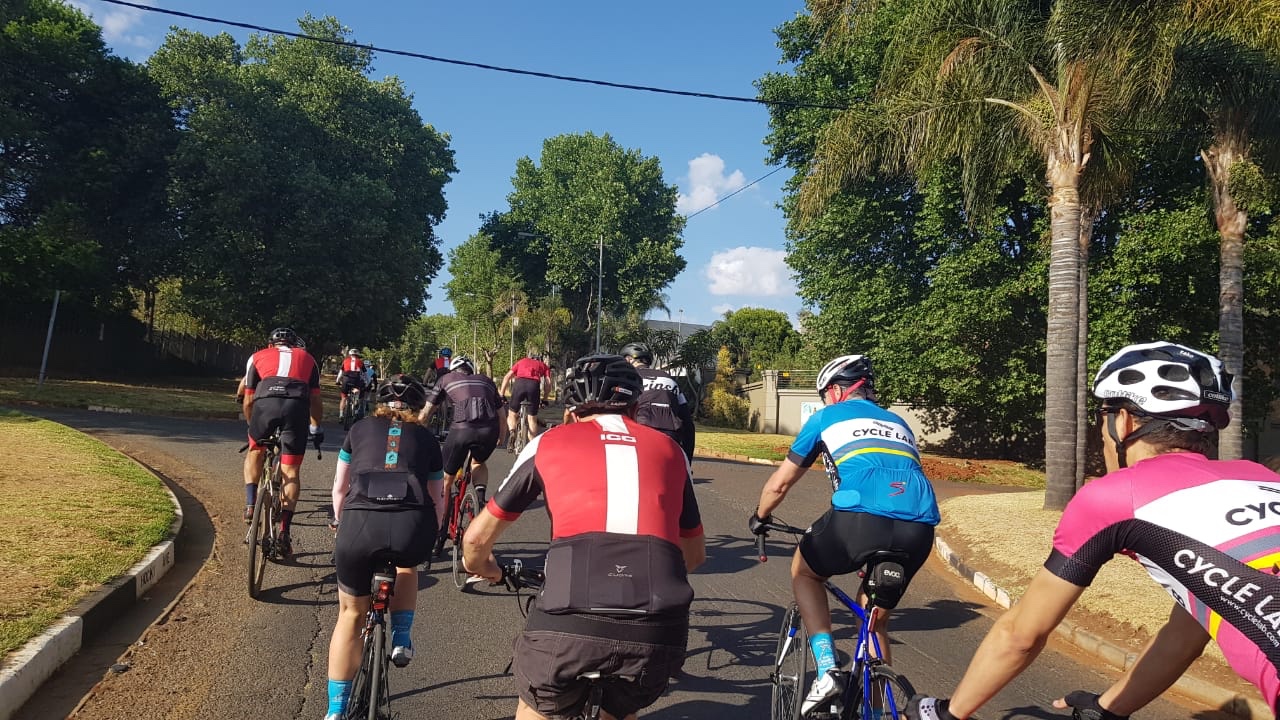 At one stage, when we had done about 180km of cycling and were closing in on 6000m of climbing, I asked Jarrod what his longest ride was. He replied "155km". Everyone was stunned. I replied "not anymore". We all laughed and just carried on.
It was getting hot. Louise went and bought ice for Jarrod to stuff into under his bib shorts above the thighs and into his sleeves. It helped him a lot. I was feeling fine, so I didn't take any ice. The pace was relatively easy for me, and heat seems to bother me less than it does most people.
Each time we went through the booms at our "base camp" there were literally crowds of people cheering. There was a big banner supporting Jarrod that we rode under each lap. It was all very moving.
During one of the breaks, I left my bike in the sun. My Wahoo GPS got very hot. This affected the barometer and suddenly I had done about 150m less climbing than I should have, based on the laps done. I started going further down each lap to get some extra climbing, but eventually it was apparent that I was going to have to do an extra lap. Dan had also forgotten to turn off the auto pause on his GPS initially. When riding slowly up some of the steep sections, his GPS thought he had stopped! Dan's GPS was also behind on climbing.
It got cooler and dark again. I was working on finishing between 10pm and midnight now. Our cycling friends kept coming and going. Once again, those who had done ultra endurance events, knew this was a very difficult time. We had been riding for over 24 hours with no sleep. One of the big challenges of these short laps, is that it is so easy to quit. You just pull over at the end of a lap – your car is there, your family is there, you can be home and in bed in 30 minutes.
We got to 50 laps – our last rest. I told Jarrod, that I was going to skip the rest and get my extra lap in. I was feeling good and had been riding slowly all day. I went fairly hard. We had been doing the climb in 19 to 22 minutes. I did this one under 13 minutes. I finished my extra lap and still had to wait a few minutes for Jarrod.
Jarrod had put his earphones back in. I am not sure if he had found music with a faster beat, but he was speeding up. We were at the point where we were all sure that we would make it. Dan was now also doing a catchup lap. Around 10:30 we got to the end of our final lap. We went right to the top to make sure of it. It was very quiet at the top. We congratulated each other. Dan was still a few metres short, so he was going to have to go down short way and come up to finish. Jarrod and I freewheeled down.
Jarrod's family were there. After amazing everyone (again) by doing 21 laps herself, Louise had gone home. Dan completed his short lap and we had photos and interviews before packing up and heading home.
Afterword
Reflecting back on the day, I doubt anyone else has experienced an Everest anything like that. They are generally lonely, riding for hours by yourself. This was like the celebrity version with cheering crowds and a continual stream of supporters.
An Everest is a serious undertaking. There are less than 4000 successful cycling Everestings worldwide. Generally they are attempted by people in top physical condition, and with many months of training and preparation. How did Jarrod, with less than 1 year of cycling, no specific training, only a few weeks of preparation and a body that had endured all those operations manage to do it?
There is only one answer. With pure determination and willpower. Nothing was going to stop Jarrod from finishing this. There are people who watched us finish and now know that it is possible. I hope we have inspired some to do an Everest. Others I suspect will find it far more difficult than they expect.
As I said to Jarrod and Dan a few days afterwards: "an Everest is achieved in the mind, not in the legs"