The decision to ride
PBP has a complex pre-qualification system. You needed to have completed a 200km, 300km, 400km and 600km in the year ended November 2018 to pre-register. Thereafter, only those who have pre-registered are able to enter, but you need to have done all the qualifying events again by early July.
By November 2018, the longest Audax Louise had done was 200km, but we did the full set in the first half of 2019. I didn't want to do the PBP without Louise, so I had not pre-registered. Then on 23 June, I received an email with the following "Due to a considerable number of abandoned pre-registrations (1500), opening of registrations to everybody (with qualifying BRM) until July, 3rd". It took a few days to convince Louise, but on 2 July we entered.
I chatted to my Cycle Lab friends that had also qualified and was delighted when Graham van Niekerk – Mr G – said he was in and also entered. Less than a year ago, Mr G could not get through a 200km without severe cramping – more than a bit of a worry, but he had got through the 300, 400 and 600km qualifiers, so I was hoping for the best!
We had 6 weeks to go. Not a lot of time for training, but we were in pretty reasonable shape.
Last minute training
We then started trying to get some long cycles in. Some unloaded and some with the full load we would need to carry – we had decided to do PBP self supported with no drop bags. Every item was weighed and we agonised over whether we could leave each item behind. Our friends were amazed as we chalked up rides between 200km and 300km. However, we were thinking to ourselves that 300km is short compared to 1220km. Very, very short…
Bike admin again
After riding my Cannondale on The Beast with the temporary repairs, I needed a new frame. Mills very kindly lent me a Sintesi and we moved all my components over to the Sintesi. I have lost count now of the number of times Mills has built my bike up for me. The Sintesi was an aluminium frame and did me very well for training. It was a little heavier than I would have liked, but the ride was very hard – not ideal for a 1200km ride. So we were scouring the Hub for a more modern aluminium or titanium frame. Eventually we found an early Lance Armstrong era Trek frame – aluminium with carbon fork – and I drove over to pick it up. How do you buy a frame in amazing condition, that was once top of the range for R1200? Mills very kindly spent most of his Friday building the bike so that I could get a weekend of training in.
On the ride to Harties, I tried to bunny hop a pothole with my fully loaded bike. It didn't work too well and I came down on the lip of the pothole. My back wheel was toast and I was flying in a few days.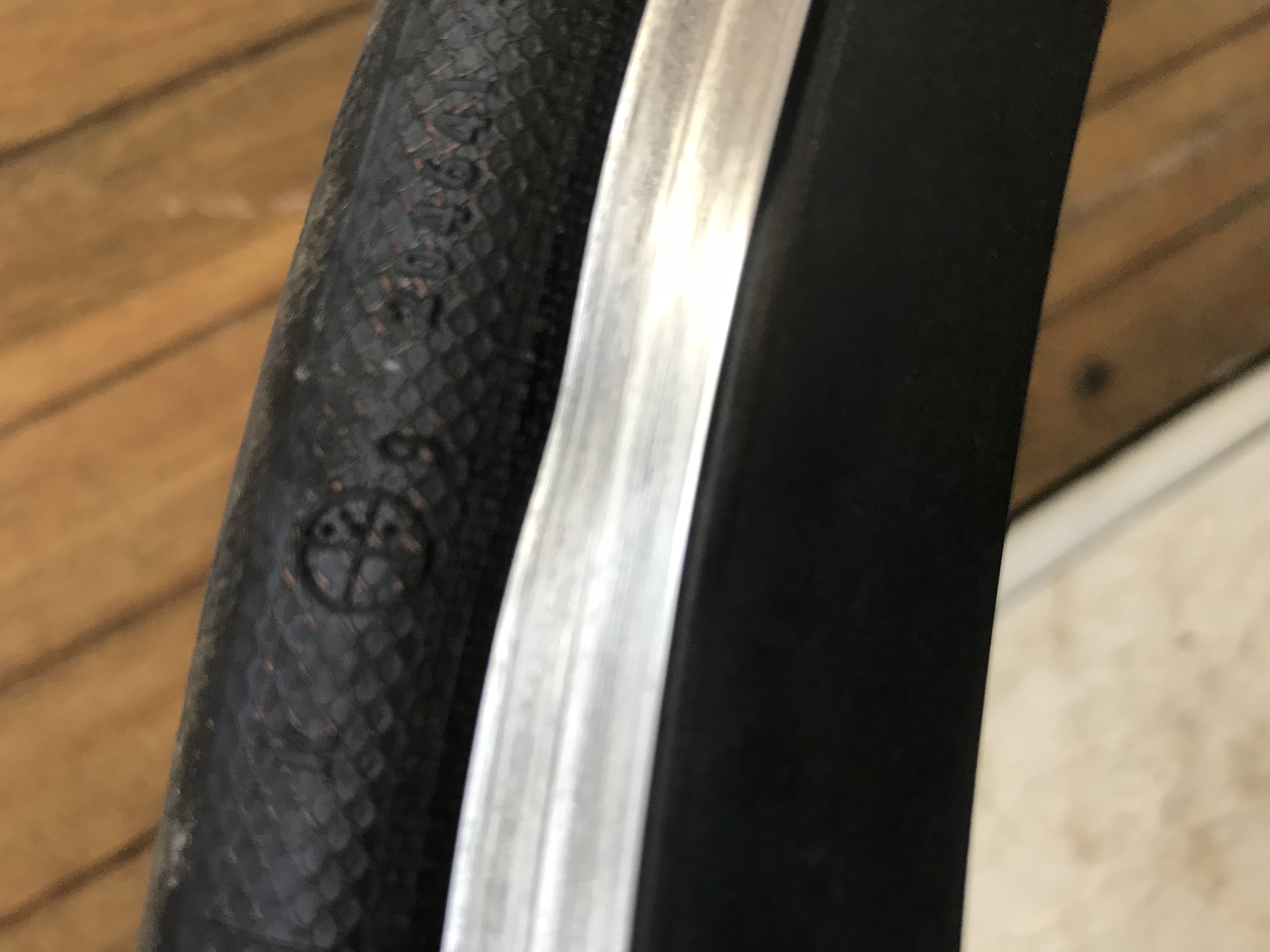 I tried to order a new rim, but it would take too long. Mills again came to my rescue and lent me a wheel. We changed the cassette and tyre over and I had one short spin prior to packing up my bike for the flight.
Arriving in France
We took a direct flight to Paris and arrived at the airport early on the Thursday morning. (PBP starts on Sunday). We had booked accommodation at a town called Trappes – a few stations up the line from the start in Rambouillet. We bought our train tickets at the airport. The lady helping us had no idea where Trappes was and had to look it up first! We had to change train twice, dragging our large bike bags and hand luggage with us.
The middle section was through the metro. We had to drag the bikes up and down stairs and get them through turnstiles – a lot more than we had bargained for. Eventually we got to Trappes.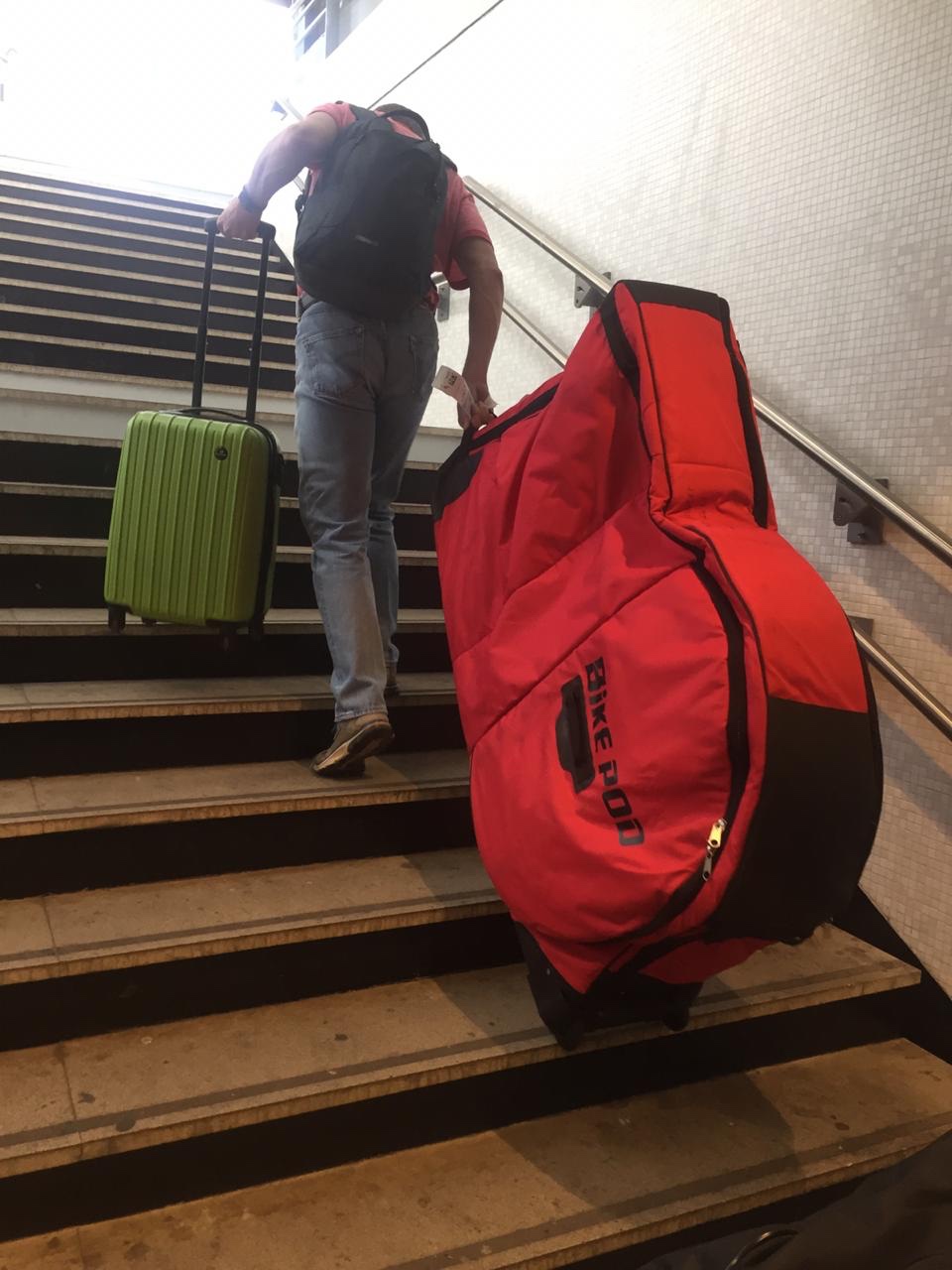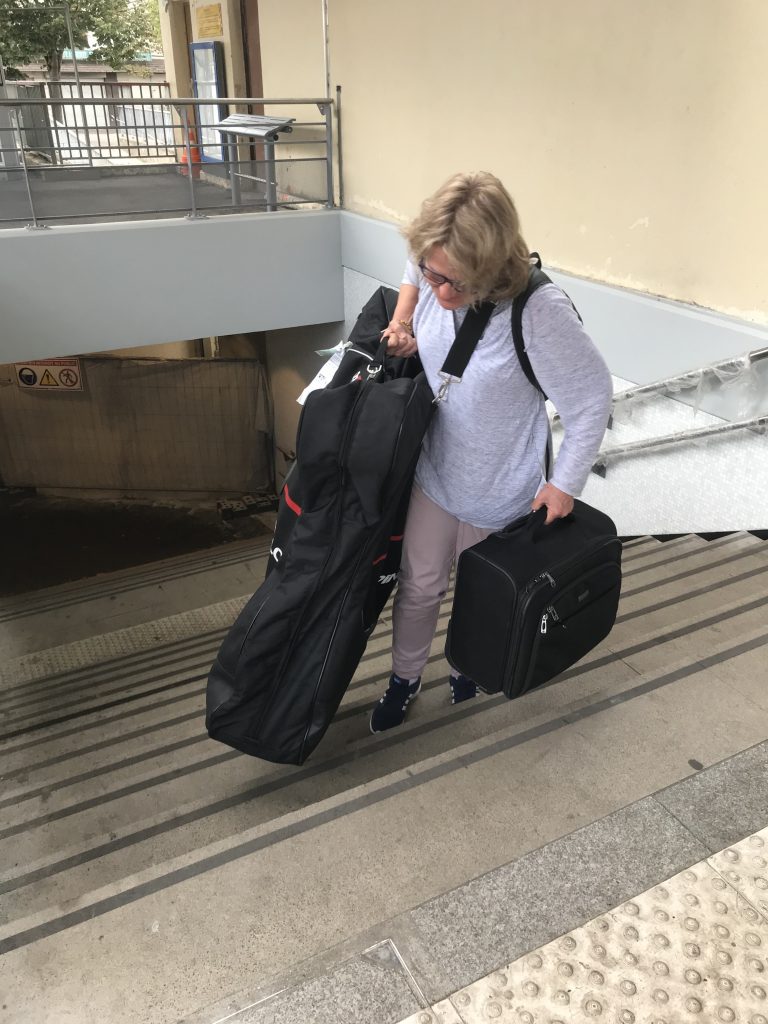 Our accommodation was 1km from the station. We had arrived on a public holiday and the busses were not running, so we then had to drag our bikes 1km to the Airbnb I had booked. It had no reviews – we were the first guests!
The place was tiny, but comfortable enough with a tiny bathroom, a very small stove, microwave oven and a coffee maker. The couch folded out into a surprisingly comfortable bed at night.
Getting ready for the start
We immediately set our bikes up. Louise has a much larger bag, so the bike goes in with everything on (except the wheels). Mine needs the handlebars and pedals removed. We went for a short ride on Thursday, and on Friday took our bikes on the train to Rambouillet and road the first section of the route. In a beautiful, forested area. The excitement was really starting to build.
Checking in
On Saturday we needed to take our bikes for the bike check. Their main concern seemed to be that we had lights, firmly attached to the frame, that worked in steady mode. (Flashing lights are not allowed in France.) Louise and I always attach our back lights to our bags, so had an extra light attached to the frame which made the trip to Brest and back without being even turned on once – other than at the Saturday check in.
The day was miserable and we seem to have chosen the busiest time, as we queued with our bikes for hours before being checked. We did have lots of time to chat to a number of the riders from England that we met in the queue. We had 12 riders from South Africa and were finding out the Brits and Americans were arriving with 30 or 40 people from their local club.
Eventually we got through the check in – without being sent to the mechanics for rectification. We then went and queued for our packs containing "frame numbers", a visibility vest that conformed to some EU specification and that we had to wear, as well as the cycling shirts we had ordered.
Then back to the Airbnb for the final bike preparations and trying to build up a food and sleep surplus.
Rolling out – day 1
Mr G had arrived in France on Saturday and we only got to meet up with him at the start. After queuing through a few holding areas, we got the first stamp on our Brevet cards and rolled from the start, exactly on time at 8:45pm in fantastic conditions. It is a difficult time to start, as it is still too hot to wear warm clothes. You don't want to overheat, can't afford to get cold, and don't want to lose a good bunch if you happen to be in one.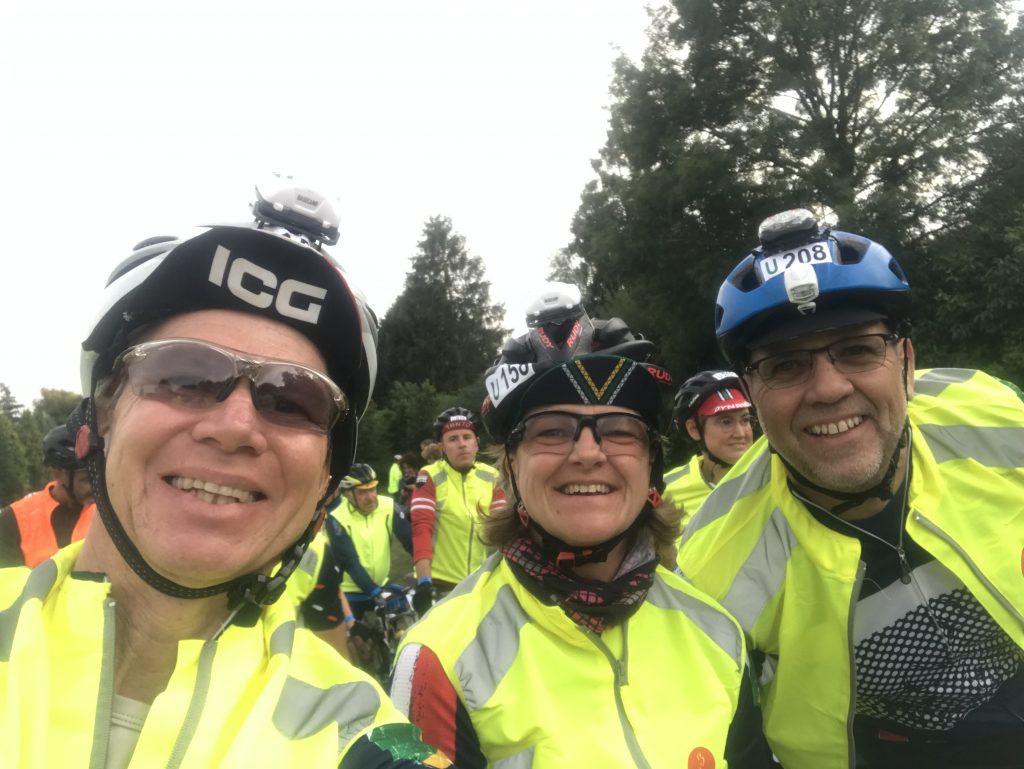 We found a great bunch driven by a club from Wales. They were riding like Cycle Lab – easy on the hills and looking after all the team mates. We were making good time without expending much energy. The terrain was pretty flat and when we stopped to dress warmly, we were averaging over 27km/h.
After that stop, we were in smaller groups, or just the three of us. Our average speed was dropping off, but we were conserving energy and riding sensibly through the night.
The distance to the first control was 217km, which allows the field to spread out. There is a feeding station at 118km, but we had planned to miss this. It was cool riding at night and we did not need to fill up. We arrived at the control – VILLAINES-LA-JUHEL – just before 6am. There was not much to eat there so we had a soup bowl of coffee, a couple of cokes, filled up our bottles and headed on.
Just after 9:30 we arrived at the 2nd control – FOUGERES – at 306km. We checked in first and then had to ride a short distance to the restaurant. It was well organised, the queues were not too bad and we ate well. I had an omelette, a few cheeses, cold meats, another bowl of coffee, a few cokes, and some sparking water and we were off again.
Then on to TINTENIAC at 360km and to LOUDEAC at 445km. We were now having a meal at each control and doing serious damage to our eating allowance. The terrain was hillier, there was a headwind and we were running slightly behind schedule, but I really wanted to get to the control before Brest before sleeping, so we pushed on and arrived at CARHAIX-PLOUGUER at 521km, a little before 11pm. We did not eat then, but queued for a camp bed in a large hall at a cost of 8 euros. The queue took a while and we were given a very thin, disposable cotton sleeping bag. I woke up later, very cold and had to put warmer clothes on.
Day 2 – to Brest and heading back
We were woken up at the pre-set time of 6am and then needed to eat. This was the least organised of the controls and we had a long queue for breakfast. By now fatigue was showing on many of the participants, who were sleeping in corridors, at the tables, just about anywhere.
After breakfast we had a fantastic section down to Brest, with a number of long gentle downhills. I was in front pedalling the downhills and we past a lot of people.
It was on the uphills on this section that Louise's right knee began troubling her and we needed to take the hills much slower.
We arrived at Brest at 11am and checked in. We had been travelling with Anders from Sweden for quite a way. He indicated that the restaurant in Brest was not great and took us to a supermarket on the way out where we bought food and ate on the pavement. Louise's knee was now getting bad and we were paying for all those downhills that we now needed to get back up. We told Anders to go on and managed the pace carefully from then on. Mr G had a supply of anti inflammatories and pain killer and Louise was taking every 6 hours. They helped a lot, but wore off long before the 6 hour were up.
My original plan was to do 500km, 400km, 300km and finish in 3 days. It was clear that this was no longer possible, but it had given us a large buffer. We were pushing to get to TINTENIAC at 869km. This would leave us with 351km to the end.
We went back through CARHAIX-PLOUGUER at 693km and LOUDEAC at 783km, stopping for massages to Louise's knees – both of which were now in pain – and meals at each. We arrived at LOUDEAC at 10pm and I was walking back to my bike, putting my warm clothes back on after eating when I must have dropped my glasses. I went back to look for them, checked the lost property in the information tent, but then had to go on without them to the end.
We finally made TINTENIAC just before 4am and went straight to book beds. They could not fit us all in a room, so Louise and I had one room and Mr G another. We asked to be woken at 8am and were given real beds with nice mattresses and a blanket. I slept well.
Day 3 – On with fatigue and buggered knees
We woke, had breakfast and left after 9am. 351km to the end. We had the whole day and the next day up to 2:45pm to do it in. We just had to ride sensibly and not stop too long. 351km was going to be too far to do without another sleep, given Louis's knees. I figured that if we rode to the second last control MORTAGNE-AU-PERCHE at 1097km that would leave us 123km for the last day to finish before cut off at 2:45pm.
That meant we needed to do 228km on Day 3. Sections that seemed flat on the way to Brest, now seemed littered with rolling hills. The 228km took us through the controls at FOUGERES – for a lunch – and VILLAINES-LA-JUHEL where again there was no real food available, so we stopped at a shop further in the town and bought junk food to eat.
The day was hot and at one stage Louise said she needed to lay down for a few minutes. Her logic was that if Churchill could make it through the war on power naps, it would get her through PBP
We finally arrived at MORTAGNE-AU-PERCHE – the first food stop on the way out was a full control on the way back – at around 11:30pm. We immediately booked beds – a closed cell mattress on the floor with a blanket. It felt like such luxury! We asked to be woken at 3:30 and were asleep almost instantly.
Day 4 – To Rambouillet
We woke and had another good meal before heading out again. I was living on omelettes (where they had), lots of cheese, cold meats, hot chicken and hot ham dishes, large amounts of coffee, coke (during the day). Eating gets expensive there, particularly if you don't eat bread.
Only 228km to go! My trusty Wahoo was counting down 200km, 199.9km and we had a little celebration. Unfortunately, that's where the Wahoo fell apart. It reset, tried to recover the ride twice, before starting a new ride. Don't they test these things on long rides??!!!
Normally this would have made me angry, but I was just delighted to be making good progress here. The roads were flat and it was clear that it would take a major problem to prevent us finishing.
We arrived at the final control DREUX at around 8am. Time for another breakfast and then the final 46km to Rambouillet. I felt like it was the final stage of the Tour de France and we were riding in to Paris. We even did toasts with imaginary champagne.
I had spent much of the time at the front, but on this section I was at the back most of the way. I had battery power to spare now, so was taking videos and posting during the ride. We rode through a beautiful forested area and finished strongly, so pleased with our achievement.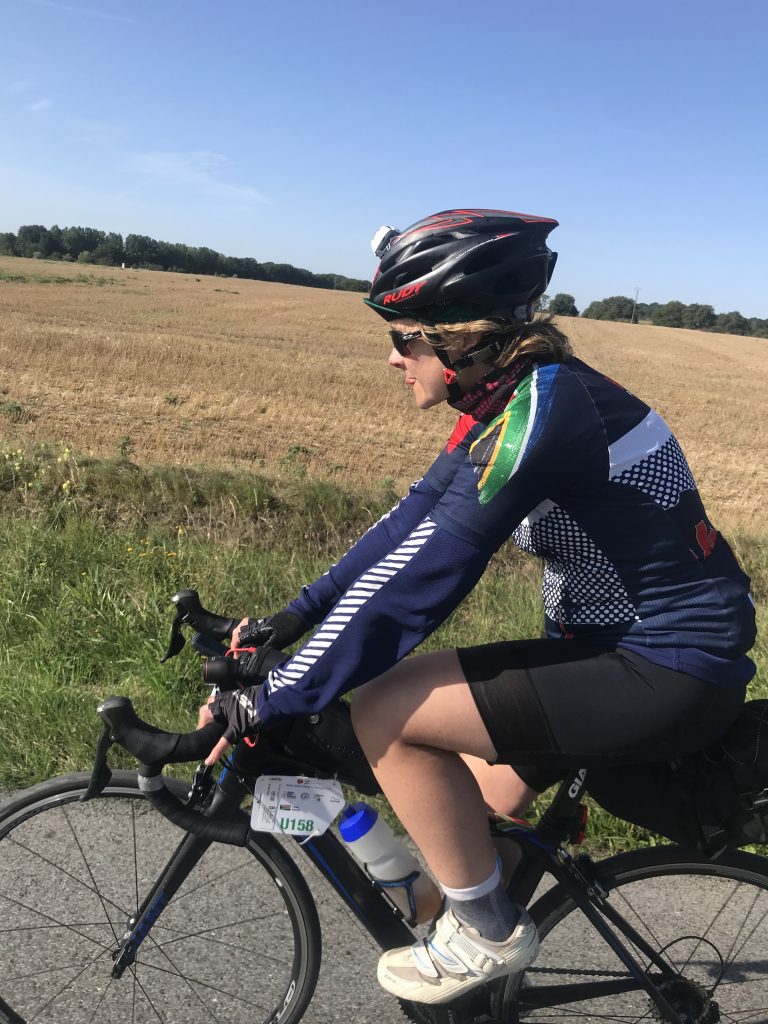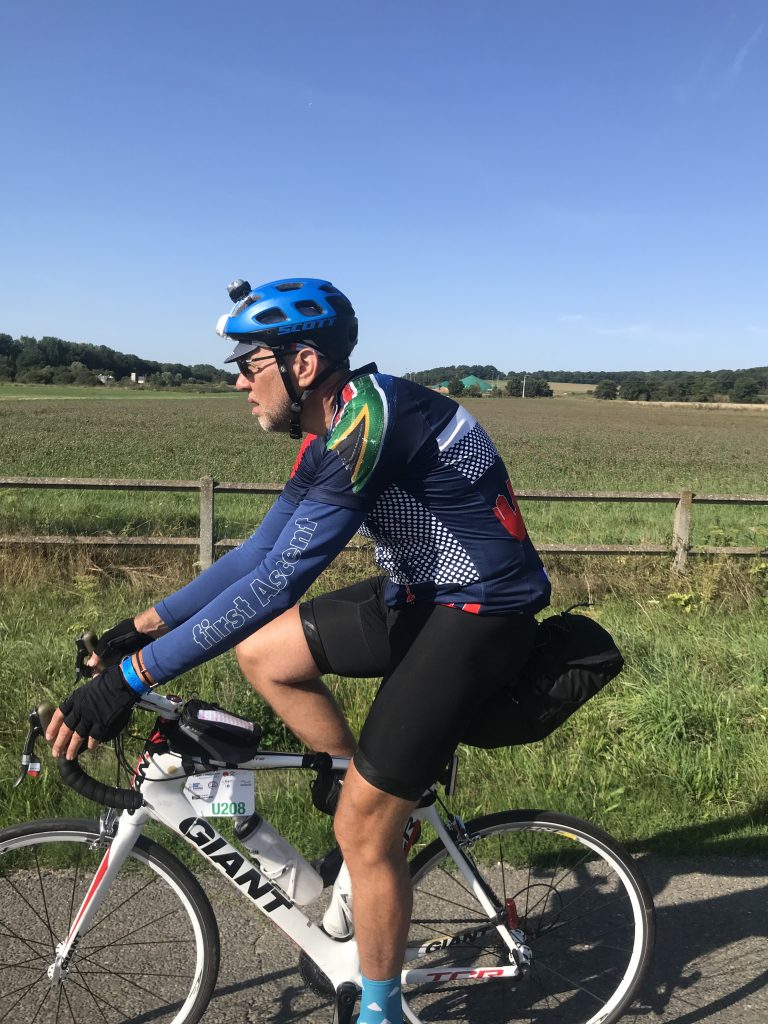 Support and social media
I was prepared for some support from family and very close friends, but I was absolutely amazed at the extent of that support and the number of people who followed our trip so closely, with stories of people not getting much work done as they waited for us to cross timing mats and posted updates and messages of support on WhatsApp. Some posted on groups and some privately. We had barely crossed the mat at the control of some town that we could not pronounce, when my phone started beeping madly with updates to everyone else and messages of support.
We rode this for ourselves, but it seems to have had a much wider impact on our family and friends. We were all absolutely amazed by the support and interest. You have little time on an event like this. We also had to watch our batteries, as we had no means of charging other than with the powerbanks we were carrying. Lights were essential, then GPS. Communications only for short periods at controls.
At each control, you queue to get your brevet card stamped, queue again to get food, sit down to eat, apply suntan lotion, apply lube to areas that are chafing, plan the strategy for the remainder of the day, check that your companions are doing ok, etc. Just a quick glance at some of the messages, maybe post a picture and get back on your bike.
It was only afterwards, that I went through all the groups in details and saw the full extent of the support we received. It was incredible and very humbling to read it all.
Some thoughts from afterwards
Louise and I are doing a little touring in France afterwards. We gave up on the trains and hired a car. We have been staying at small B&Bs, without doing too much distance. It takes the body quite a while to recover from something like the PBP.
One of my ICG friends, a doctor, contacted me immediately once he heard how Louise had ridden on anti inflammatories and pain killers. He has had a few patients who have had kidney failure after doing the same. Louise had swollen up a lot and this was quite a worry for a few days.
Our preparation and strategy was, I think, really good. We had everything we needed, had tested all our equipment well and had a ride strategy that gave us a lot of flexibility for trouble on the ride. We do, however need to understand what happened to Louise's knees, as she has never had a problem before.
Louise had bought new shoes and tried them for a while, but they gave her some pain and she changed back to the old shoes just before PBP. We had marked the cleat positions, and she does use cleats with 4 degrees of float, but maybe this was the problem?