It was not in my plans for the year, but two weeks before the event, I decided to take on "The Beast", a notoriously difficult 1000km Audax. I was in good shape and was very confident.
The Beast started on Friday 17th May at 9pm from Vrede wines near Stellenbosch. I planned to fly down on Friday morning, book into a B&B for a few hours sleep and drive over to the start.
Lots went wrong before I could even get to the start.
Preparations
On Tuesday, my friend and master bike mechanic Mills, instructed me to bring my bike over for a checkup prior to the event. I went around after work on Tuesday. All was going well until Mills turned the bike over and found some damage to the frame. Once he had fully exposed the damage, it did not look good.
I was not really keen to borrow a bike that I had not ridden before and 1000km on my MTB was not that appealing. Mills said he knew a carbon repair specialist and would take the bike over the following morning and see if it could be repaired. The following morning he called me with the news that a proper repair was not feasible, but Mills could get it strong enough to do The Beast with epoxy glue, duct tape and cable ties. He started work on Wednesday evening and finished it on Thursday. I went over on Thursday evening to collect the bike.
We packed it up in the bike bag, I went home to sleep and left on Friday morning with my bike, now know as Frankenstein, untested after being partially stripped down and put together again.
The morning did not go well either. I left all my charging cables behind. I managed to replace some at the airport, but then used up valuable sleeping time driving to the Tygervalley shopping centre to buy the others, before driving to the B&B near the start, unpacking my bike and packing my drop bag.
After a few hours rest, I headed to the start, signed in, vaguely listened to the briefing and got ready to get on the bike for the first time since the repairs. It was also much cooler than I expected, so I put on a second thermal top and headed out with the others.
The way out
There were 7 of us. Myself, Leonard and Ernest from Gauteng and the locals Wimpie, Derek, Nico and Theunis. I had obtained the route, meticulously set up exactly where the stops were and downloaded them to my Wahoo Bolt GPS. I knew exactly where to go. We had not gone far, when Wimpie, at the front, took a left turn when the route was straight. Seems in the Cape the route is only a recommended one. Local knowledge was important and I only vaguely knew where I was.
We rode around the back of Paarl and through to Wellington for a quick stop to get cards signed, before heading up Bainskloof pass at a nice, easy pace. Going over the top in the dark, Wimpie, Leonard, Ernest and Nico took off around tight bends in the dark. Taking it more cautiously, I fell back, but pushed and caught up again as it flattened out. Nico dropped back to ride with Theunis and Derek, while Wimpie, Leonard, Ernest and I rode on together at a good pace and opening a gap to the others.
A lot of this was also off the advised route.
After a quick stop in Rawsonville to sign cards, it was on to Robertson where we had a coffee stop, before finally continuing on the route.
Then on again through Ashton, Montegue, up the back of Op De Tradouw pass and down to Barrydale for breakfast after 250km. I was feeling good and going at an easy pace with Leonard and Ernest, while Wimpie went ahead up the pass and arrived at Barrydale ahead of us.
I often have music going around and around in my head on long rides. Today was mainly Foreigner'a Juke Box Hero. With the concern about the cold front due to hit on Sunday night, I think it may have been the line "Standing in the rain…" that brought it to mind.
After a great breakfast at the Diesel & Creme coffee shop, we headed on to Ladismith. We learnt that Theunis had pulled out at Bainskloof and that Nico and Derek were some way behind us. The road was undulating on this section and not nearly as easy as it had looked on the map. The temperature was also picking up. When we got close to Ladismith, Wimpie went ahead to order us all lunch at Steers.
After Ladismith, the next control is Oudtshoorn, a long haul of 97km. I was trying to stay with Leonard and Ernest, but our riding strengths are quite different and it was not working well. Wimpie had gone on ahead and I decided to rather catch Wimpie, who I could see in the distance. Shortly after this, my front light came loose and I had to stop, get out my multi-tool from the bottom of my bag, and fix it, before taking off after Wimpie again.
I drink less than the others and was comfortable to get to Oudtshoorn. Wimpie stopped in Calitzburg, where I passed him without seeing him and continued "chasing" him. When I got to Oudtshoorn, Maria who was driving the support vehicle told me I was 5km ahead. After a quick coffee, coke and water, I headed on to the planned sleep stop at Hartenbos.
I knew there was a steep pass down into Hartenbos, but had not realised how much I had to climb from the Oudtshoorn side, I was getting tired after all the chasing. As the sun went down, I stopped to put on warm clothes and resumed at a slower, steady pace. I was cautious down the other side of the pass and arrived at the B&B at about 8:15. I had showered and had supper by the time Wimpie arrived, with Leonard and Ernest not too far behind. We agreed to leave at 4am. I set my alarm for 3:30 and got a decent night's sleep.
The way back
I woke up feeling good and got ready to leave, when I met David who had a very strange story to tell. He had somehow found out about The Beast, but rather than make contact and enter, had taken a sequence of photos of the route and left about 6 hours before us, on his own, sleeping in storm water ditches on the route!
Wimpie and I left with David in tow and headed up the Robinson Pass. A massive out of category climb starting at sea level and topping out at 860m. We reached the top after about 2 ½ hours later at daybreak and stopped for a quick photo
Then a nice, mostly downhill run into the Wimpy at Oudtshoorn for breakfast: 4 eggs, double bacon, 2 Mega Coffees and pouring cream. I was eating more and more as the ride went on!
After agreeing that we were all ready to go, Wimpie and I got our clothes sorted out, helmets on and bikes to the door. David, who was doing something on his phone, then started eating again, so Wimpie and I left David and went on.
We knew bad weather was coming. A major front was expected to hit Cape Town on Sunday evening, and we wanted to get as much distance covered in good conditions as possible. We headed on to Calitzburg, where Wimpie filled up his bottles again before heading up the House River Pass towards Ladismith. Lots of fun to ride down the previous day, it is a hard climb back up. The conditions were good, but getting hot. Wimpie did not have his summer cycling jersey with him and half way up resorted to removing his jersey entirely.
We requested Maria to meet us with Wimpie's drop bag in Ladismith and continued up the pass. At Ladismith, we went back to the Steers, where I wolfed down two double burgers, 2 large coffees and a coke. The wind had started to pick up and was now getting strong. Wimpie and I agreed that we were not going to sleep in Barrydale (the planned stop), but would carry on while the weather was still (relatively) good.
I found the section from Ladismith to Barrydale very hard with the wind from the front and the side. Wimpie was in the front for most of this section. He is fantastic in the wind and I learnt a lot from him. We cycled though two sandstorms, before a stop at Ronnie's Sex shop for a coke and to refill the water bottles. A pub, more than a shop, with signed bras hanging everywhere – very different!
More music was going around in my head. Other than a brief interlude of "bobbejaan klim die berg", after seeing a baboon next to the road, this section was dominated by "They call the wind Maria". Presumably inspired by the weather and our support driver Maria, I am not sure how this obscure song came into my head. I somehow knew the tune quite well, but not too many of the words!
At Barrydale, we stopped, had ribs for dinner, put on some warmer clothes and headed off, up Op De Tradouw pass. Now I was feeling much stronger and Wimpie was feeling nauseous, so I was doing more of the work. Wimpie also forgot to pack his second battery, and could not use his light on the bright settings. Despite this, we made good time to Montegu and on to Ashton, where we stopped for a coffee, although it was not a control. We stopped again at Robertson. More coffee for me, and a couple of trips to the toilet for Wimpie, before heading on towards Worcester.
About 30km from Worcester, we felt the first drops of rain and stopped to put our rain gear on. Wimpie was still nauseous, but was now also starting to feel drowsy. He suggested that we go into Worcester and seek shelter at the police station. At that stage, it was raining harder and there was wind, but the conditions were manageable.
Wimpie managed to negotiate that we could shelter for a few hours and we wheeled our bikes into the victim support room, with a couch and two chairs. I had a thin, dry base layer in my bag which I put on and tried to get some sleep on a chair. Wimpie had nothing to change into and tried to get some sleep on the couch in his wet clothes. After 1 ½ hours of trying to sleep, Wimpie said he was too cold, and I agreed to go on.
Terrified
Thereafter was a terrifying hour of cycling to Rawsonville. It was very quickly evident that the conditions had deteriorated horribly while we were in the police station. We were in the dark, in pouring rain, with a very strong side wind and were getting passed by trucks that covered us with spray. Our bikes were leaning hard into the wind, so much that I was worried whether my tyres would hold on the wet road. As the trucks passed, they blocked the wind, pulling you in towards the truck before getting hit by the wind again as the truck past.
When we got to the garage in Rawsonville, I told Wimpie that it was not safe for me to ride in those conditions and that I was going to withdraw.
I called for our support vehicle to come and pick me up. Then my phone rang. It was Mills telling me that he had checked up on the weather with Rob Kennedy, who has access to pilot weather systems and that it was going to improve. He had found a B&B around the corner and that Rob was going to pay for me to spend a few hours there to recover and wait out the storm.
After much persuasion, I agreed and put my wet clothes back on for a very short trip to the B&B. I arrived there shivering – the only time I was at all cold.
Elsie welcomed me to her B&B. She did mention that she normally refuses people who want to stay for a few hours only as "they are not that kind of establishment"! She was incredibly kind. I had a hot shower, put on the pyjamas she lent me and relaxed waiting out the weather.
During this time, Mills called to check up on me and arranged for Rob to call me to offer advice about riding down Bainskloof in bad weather. Ernest's wife Marieta, brought my bag over and I changed into what dry clothes I had, with the driest of my wet kit on top. After another cup of coffee, I left at around 11am with only 95km to go.
Route issues on the way home
I followed the track provided on my GPS and was making good time, although there were patches of heavy rain initially, the wind had weakened considerably. However, after around 20km, I came to a low-level bridge over the Breede River.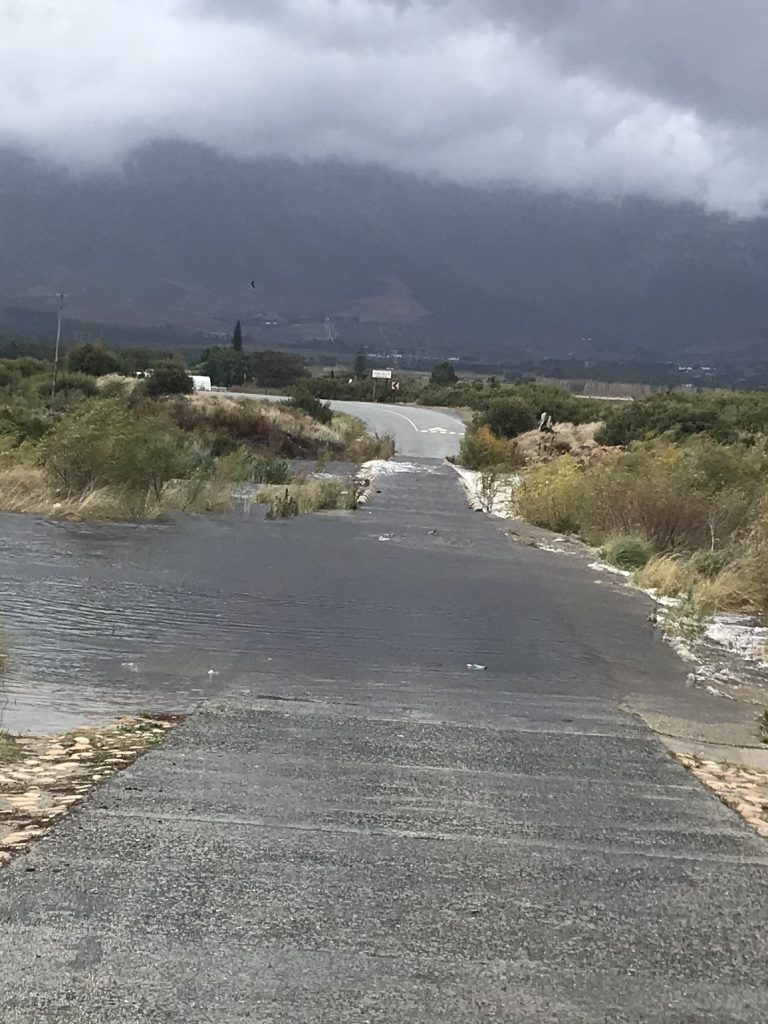 It looked marginal to me. I wondered whether I could carry my bike over it, but my years of canoeing had given me a lot of respect for flooding rivers and I decided to turn around and go back.
A mere 2 hours and 10 minutes later, I was looking back from the other side!
Once I was on the route again, it was a beautiful ride up Bainskloof Pass, with the rivers in flood and water flowing across the road in places. I was past the rain and there was only a mild wind. I reached the control in Wellington, had a coffee and a chat with the pump jockeys before heading on. The route now took me stop, start through Paarl. I found out later that this is the recommended route at night to avoid squatters on the road we used to come in, but I just waisted time fighting Paarl's rush hour traffic in clear daylight conditions. I was feeling good, so I just kept on to the finish, arriving just before dark, where Maria was kindly waiting for me.
Rest and recovery
My original plan was to finish as early as possible on Monday morning, jump on the next available flight and head back to work. That proved a little optimistic!
I booked back into the B&B near the start, tendered to my first ever saddle sores, booked a midday flight and had a very good sleep. It was over a week later before I could ride properly again.
Some things I learned
Always find out about the route and have alternatives planned for adverse conditions where allowed.
Consider carefully before chasing people I can't see.
Make sure I understand where all the significant climbs are.
Don't follow someone out into really adverse conditions. In retrospect, I should have stayed in the police station at least until first light.
Riding the distances I do and on Jo'burg's potholed roads is asking a lot of carbon frames. I must consider Aluminium or Titanium frames in future.
Conclusion
People keep asking me why I do it and would I do The Beast again. The short answer is because I really enjoy these long rides and absolutely I will do this again.
I am very thankful to my wife and family for their support and my many friends at ICG and Cycle Lab, who make my training so enjoyable.